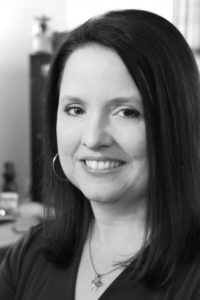 Trisha Slay grew up in a haunted house located near the heart of the Buckeye State. She currently lives in the North Georgia Mountains where she divides her time between ensuring everyone on the planet has the opportunity to pause for refreshment every day, hunting down true ghost stories, and dreaming up new White Crow Mysteries. When she's not hunched over a computer, she enjoys hiking in the National Forest with her husband and rescue dogs. She also loves exploring all aspects of Star Wars geekery, visiting historic cemeteries, photographing wildflowers, helping homeless pets, and sampling red wine. However, she's learned the hard way that writing about restless spirits while sampling a glass of Zinfandel can result in wicked nightmares. Reader be warned!
Unhaunted – Book 1 of the White Crow Mysteries – will be released on March 6, 2018.
Her first novel, Not So Long Ago, Not So Far Away, was released by Deeds Publishing in May 2013.
Connect with Trisha: