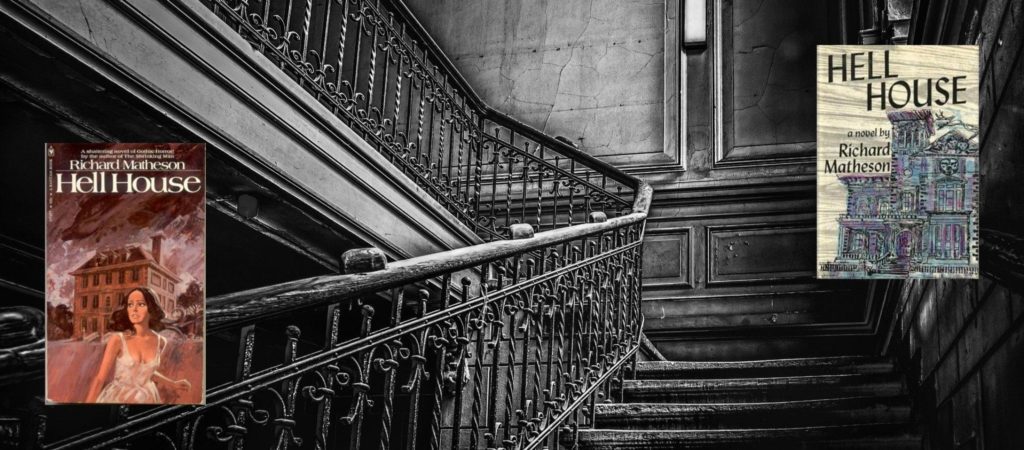 This feels like blasphemy.
First, because I love Richard Matheson's other work. Bid Time Return (and his screen adaptation, Somewhere In Time) will always hold a cherished place in my heart while What Dreams May Come is beloved in my household. Matheson's Twilight Zone episodes are among my favorites, especially Night Call. After watching Will Smith's version of I Am Legend, my cinephile husband insisted the concept wasn't original and 1971's The Omega Man was far superior. It was great fun to discover Matheson wrote both (and, yes, his novel I Am Legend was the original). Oh, how I wish Stir Of Echoes had been the Matheson ghost novel on the required reading list this semester. But I suppose Hell House is better known and provides the best opportunity to compare and contrast with Jackson's The Haunting of Hill House.
Second, because explaining why I hate this book with a deep, visceral passion will require writing about some vile things that I don't like to think about.
Third, because I don't believe in posting bad reviews online. It's partly a superstitious karma thing. What you send out into the world comes back to you threefold. Plus, life is precious and there are so many wonderful stories waiting to be discovered, so I normally do not finish books I don't like. And it's not ethical to write a bad review of a story (book or movie) where I didn't make it all the way through to the end. I have a whole graveyard of novels in my house that either bored or disgusted me to the point where I refused to read further. This one fell in the latter category, but it was required reading. So, after standing up and throwing the book across the room, not once but twice, I was forced to pick it back up and keep reading to the bitter end.
In the first eighty pages, the story launches with tantalizing promise.
As with Jackson's Hill House, we start with a notorious haunted house in an isolated location. This time we're in Maine, my absolute favorite of the fifty United States, and the Belasco house is described as the Mount Everest of haunted houses. Four people come together to unlock the secrets of its paranormal phenomena with the promise of a huge financial reward offered by a dying millionaire. Dr. Barrett is hell-bent on proving his pet theory that occurrences labeled as hauntings are nothing more than energy that needs to be dispelled. His wife Edith tags along because she can't stand to be home alone. (That was the first eye-roll moment in a marathon of eye-rolling.) Florence Tanner, a voluptuous actress turned spiritualist minister, is there to heal the world one haunted house at a time. Ben Fischer is the sole survivor of an earlier attempt to study the horrors of Hell House. He's there to tackle his demons and reclaim his repressed psychic abilities.
They arrive in a soupy fog to discover the electricity and phone service they were promised isn't working. Worse, the windows are all bricked up. During the team's initial explorations, they discover a gramophone with a creepy recording of the deceased owner welcoming visitors to his house. Then Ben describes the twisted, perverse history of Belasco, his "Sinposium" of depravity, and the origins of Hell House over dinner that first evening.
So far, so good. It's a solid foundation for a terrifying haunted house story with an element of unsolved mystery. I was hooked. I was excited to read more. But Matheson takes this tantalizing beginning and pollutes everything with amateurish depictions of supernatural events, repeated non-consensual sexual sadism, homophobia, misogyny, and a ham-fisted final showdown where decades of horror are resolved by confronting an evil spirit responsible for multiple deaths and calling him "a funny little dried up bastard."
I don't use the term misogyny lightly. James Bond is frequently labeled as a misogynist, but I can watch Diamonds Are Forever or Live and Let Die without getting my feminist panties in a bunch. However, I felt violated while reading some of the scenes in this book.
Everything started going downhill on page eighty-five when Edith is tasked with examining every inch of Florence's luscious body before the spiritualist makes her first attempt to contact the spirits of Hell House. The scene is gag-worthy, reading like a horny teenaged boy's fantasy of hot lesbian lust, and ends with Edith jerking her head to look away from the temptation of the other woman's naked flesh so violently she hurts her neck. I might have been able to look past that scene, but then thirty-five pages later Florence's screams wake the household and we discover deep teeth marks ringing both her nipples. (Can anyone point to a horror novel or movie lauded as a classic where a man's genitalia are bitten? I'm guessing no, but feel free to correct me in the comments.) Later, Florence is shredded by a possessed pussy (cat) and ultimately raped by a pseudo-religious icon with a huge phallus. That's not scary; it's just gross.
That said, there were a few things in this novel I could appreciate. Ben is by far my favorite character. Probably because he is the only character not plagued by over-sexualized stereotypes and free from a misguided sense of superiority. I would love to read a book about Ben when he was a teenaged wunderkind in 1930's psychic circles. I also enjoyed the debates between Dr. Barrett and Florence regarding the true nature of a haunting and it was clever that they both ended up being a little bit correct.
This book was first published in 1971. Intellectually, I understand it should be judged within the context of its time. As I was reading, I imagined a stereotypical Hollywood producer chomping on a cigar and waving his wife's copy of The Haunting of Hill House in the air yelling, "Take this boring female twaddle and spice it up with sex, booze, and bloodshed. Make it shocking!" Ultimately, the worst crime this novel commits is a failure to frighten. I am a certified scardy-cat. Aside from a few tingles of apprehension in those first eighty pages, this book never delivered spine-chilling thrills or nightmare-inducing terror.
For me, this book missed the mark on all counts. It wasn't entertaining, it wasn't hair-raising, and the writing style felt uninspired.
Final Note: Remember when Sesame Street was brought to you by the letter B and the number 12? Well, Hell House is brought to you by the word STARTED. I swear the word appears on almost every page. Sometimes it's used more than once in the same paragraph. It's both comical and distracting.