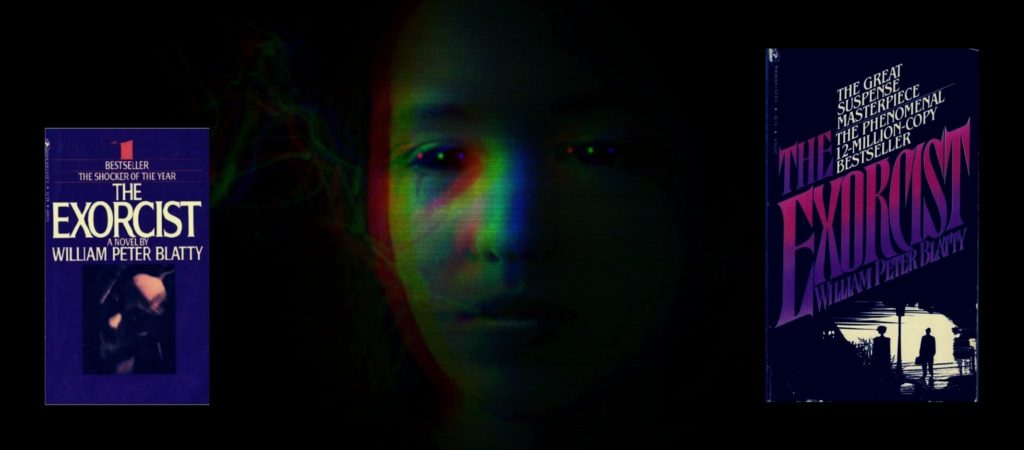 Here we go again. Another classic horror novel I would never choose to read if left to my own devices.
When I signed up for The Haunted course, I expected to read books like The Haunting of Hill House, Ghost Story, and The Shining. I expected to watch movies like Paranormal Activity and The Others. I looked forward to bone-chilling shadows, skeletons in the closet, and unsolved mysteries.
I did not expect demonic possession stories like The Exorcist or The Exorcism of Emily Rose. While I already knew I loved the latter, I had little appetite for the former. However, it turns out demonic possession is considered a form of haunting. Zoinks. Who knew?
So I sucked up all my objections and cracked open the book … only to find a skull-numbing prologue set in Northern Iraq. What the what the WHAT?!?!? Turns out this is where we meet Father Lankester Merrin, the exorcist of the title, inexplicably referred to over and over as "the man in khaki" and a statue of his ultimate adversary, the demon Pazuzu. And we won't see Father Merrin again until the final 1/5 of the book. Of course, I didn't realize that as I was reading the baffling prologue. I just knew I didn't want to read about a dusty archaeological dig in the middle east.
Though I did eventually come to appreciate this moment of foreshadowing:
Ragged wings and taloned feet. A bulbous, jutting, stubby penis and a mouth stretched taut in feral grin. The demon Pazuzu.

Abruptly the man in khaki sagged.

He bowed his head.

He knew.

It was coming. "
However, before I even got to that little gem, I gave up on reading the book for a few weeks. This is how strong my resistance was to reading The Exorcist. To put it in perspective, I generally read 3-4 novels every week and I've never quit reading a book in the prologue. I always give the first chapter a chance to save the narrative.
Finally, I decided to purchase the audiobook because I had plenty of available credits and figured I could skip forward 30 seconds here and there if it was bogging me down (as with the prologue) or freaking me out (as with listening to a little girl spewing demonic hate).
I listened to the 40th-anniversary edition narrated by the author himself – William Peter Blatty. Let me tell you something. That changed EVERYTHING. I can't explain it. Here's an eighty-something-year-old man sounding a little like Columbo reading the dialogue between glamorous movie star Chris MacNeil and her adoring preteen daughter, Regan. And it works. It just works. Dennings, the drunken, foulmouthed movie director was hilarious. But what really made this audiobook spectacular was Blatty's performance of the Jesuit priests. He brings the heart and soul into Father Damien Karras, who is really the star of this novel (or co-star with Chris). My chest ached as Damien struggled with his own loss of faith, especially during the flashbacks of his troubled relationship with his immigrant mother. But then the banter between Damien and Father Dyer would have me laughing out loud.
Shortly after ten, Joe Dyer appeared with a bottle of Scotch. He displayed it poudly: "Chivas Regal!"

"Where'd you get the money for it—out of the poor box?"

"Don't be an asshole, that would be breaking my vow of poverty."

"Where did you get it, then?"

"I stole it."
You can tell Blatty truly loves Jesuit priests. And it turns out this novel was inspired by his own time at Georgetown University where the Jesuits were more like surrogate fathers than they were priests or professors.
As for Kinderman, the detective investigating the mysterious death of Burke Dennings, it felt like his whole character might be too close to Columbo. Not just the author's voice acting, the whole character. So I did a little internet research and discovered the very first season of Columbo premiered in Fall 1971, a few months after The Exorcist was published. So I can't see any way Kinderman was based on Columbo (or vice-versa). Fascinating. Every scene with Kinderman felt like listening to a performance by Peter Falk.
Anyway, brilliant dialogue and characterization aside, I was amazed and awed by this novel.
And guess what?
As with The Exorcism of Emily Rose, this isn't so much an exorcism story. It's another story about faith. In this story, it's Father Karras struggling with a loss of faith and rediscovering it during the struggle for an innocent child's soul. This novel is so much more than a little girl strapped to a bed spewing vitriol and green vomit. The writing is brilliant. Most of the narrative is subtle and nuanced but never fails to deliver the devastating gut punches where they are most effective.
As for the ending … I knew how this story ended from the beginning and yet I cried. I actually cried. It is just that amazing. Some people might be appalled when I say this, but it's one of the most satisfying endings I've ever read. I might even call it a happy ending.
The epilogue, unlike the prologue, was a joy to read because I wasn't ready to leave these characters. That said, it blunts the impact of a brilliant and perfect ending. As an author and student, I say cut the epilogue. But as a newly forged fan, I loved every word.
I would wholeheartedly recommend this novel to anyone with the fortitude to brave the more harrowing scenes. Even if you hated the movie (like me), open-minded readers will discover a whole new perspective and love for this story.
Final Note: Here's a fantastic article from The Washingtonian originally published in October 2015, less than 16 months before Blatty passed away. It really opened my eyes to Blatty's faith, craft, and humor.