This is the haunted house story I thought I knew. Four strangers converge on a notorious and isolated estate in order to witness, investigate, and analyze purported supernatural phenomena. The house itself, built at odd angles and witness to generations of tragedy, is a brooding and enigmatic fifth character. Strange occurrences happen. Things go bump in the night. Terror builds. The participants in this ill-conceived experiment start to unravel as they are forced to confront the dark forces at play in the house, in each other, and even within their own minds. Not everyone makes it out alive. I'd read the original book and seen both movie versions years ago, so I thought I knew this story. I was wrong. Rereading Shirley Jackson's quintessential ghost story in 2020 was a surprising delight. Not only is the prose evocative and lyrical; the whole narrative churns with devastating undercurrents of loneliness, alienation, and madness. Therein lies the true terror of Hill House.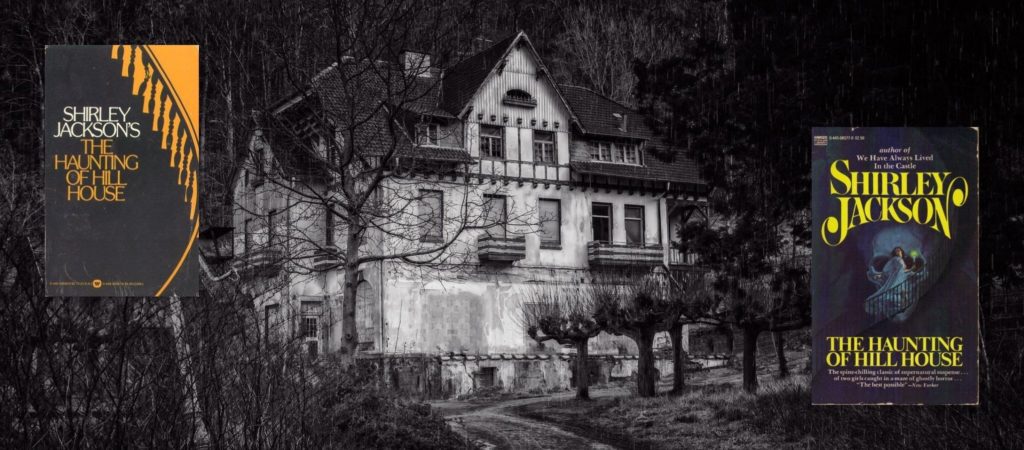 Hill House, not sane, stood by itself against its hills, holding darkness within; it had stood so for eighty years and might stand for eighty more. "
The quest to unlock the secrets of Hill House is organized and sponsored by Dr. Montague, a doctor of philosophy whose "true vocation" is ghost-hunting. After extensive research and dozens of letters, he enlists two female assistants—Elinore (Nell) and Theodora (Theo)—who come to Hill House with their own ulterior motives. Through legal manipulation, the absentee owner of the property installs her nephew and heir as the fourth member of the party because Luke Sanderson is a liar and a thief who needs to be put "safely away for a few weeks." Mr. and Mrs. Dudley, the petulant groundskeeper and sullen housekeeper, make brief cameo appearances to heighten the old world creepiness factor. The only off-key note arrives in Chapter Seven taking the form of the doctor's wife, a ludicrous caricature of a spiritualist devotee in love with her planchette. As for her "friend" Arthur, I still can't figure out why Arthur was there at all.
The beating heart of this novel and the main reason it appeals to me so much is the character of Elinore (Nell) Vance. At thirty-two, she's considered an "old maid" in the 1950s. After years of misery and abuse as her ailing mother's caregiver, she ends up living under the thumb of her sister and brother-in-law. The scene where they deny Elinore the use of a car when she is supposed to have 50% ownership was so infuriating I stood up and cheered when Nell "stole" the car for her trip to Hill House. During that illicit road trip, Nell's magical thinking is demonstrated in full force as she is enchanted by a "vast house" guarded by two stone lions, then a deserted fairyland property protected by blooming oleanders, and most especially when she spots a tiny cottage with a blue front door and dreams of stopping there forever.
I will light a fire in the cool evenings and toast apples at my own hearth. I will raise white cats and sew white curtains for the windows and sometimes come out of my door to go to the store to buy cinnamon and tea and thread. People will come to me to have their fortunes told, and I will brew love potions for sad maidens; I will have a robin…. "
When I read that paragraph, every inch of my skin vibrated with recognition and unease. Why? Because I do that. Particularly when I'm feeling lonely and untethered to reality. I feel empathy for Nell and also recognize the essential brokenness that fuels her fantasies as they play out a little too long with a little too much detail. This down-trodden, wide-open, unnaturally dreamy creature is about to move into a haunted house described in the opening paragraph as "not sane" and "holding darkness within." That's a dangerous sort of psychic chemistry.
Journeys end in lovers meeting. "
The phrase is repeated several times throughout the novel, but I'm not sure who the true lovers are supposed to be. That said, I rather like the ambiguity. The obvious answer is Nell and Theo as we watch their initial playful flirtations disintegrate into mistrust and jealously. Theo flings some half-formed insinuations about Nell and Luke, but that just feels like self-protective spite. Perhaps the true love affair is between the darkness that lingers in the house and the dark side of Nell's damaged personality as her inner demons take hold.
As for the paranormal activity at play within the walls of Hill House, this is a psychological haunting that builds in layers of dread and foreboding. The manifestations are enigmatic and puzzling, but also relentless. There's no overt violence. No decapitations. No disembowelments. No incinerations. Just good old-fashioned tension ratcheting up and up and up to a breaking point.
Alfred Hitchcock famously said, "There is no terror in the bang, only the anticipation of it."
I wholeheartedly agree.
The Haunting of Hill House is a timeless and poetic exploration of terror. Jackson's writing is as subtle as it is artistic. I thought I knew this ghost story, but I was wrong. Rereading it helped me fully appreciate all the nuance, all the pathos, all the cruelty, and all the gentle madness that culminates in the final three pages. The story's ending feels satisfying and inevitable as it circles back to the beginning.
Within, its walls continued upright, bricks met neatly, floors were firm, and doors were sensibly shut; silence lay steadily against the wood and stone of Hill House, and whatever walked there, walked alone. "