Now children, are you sitting comfortably? Then I'll begin. "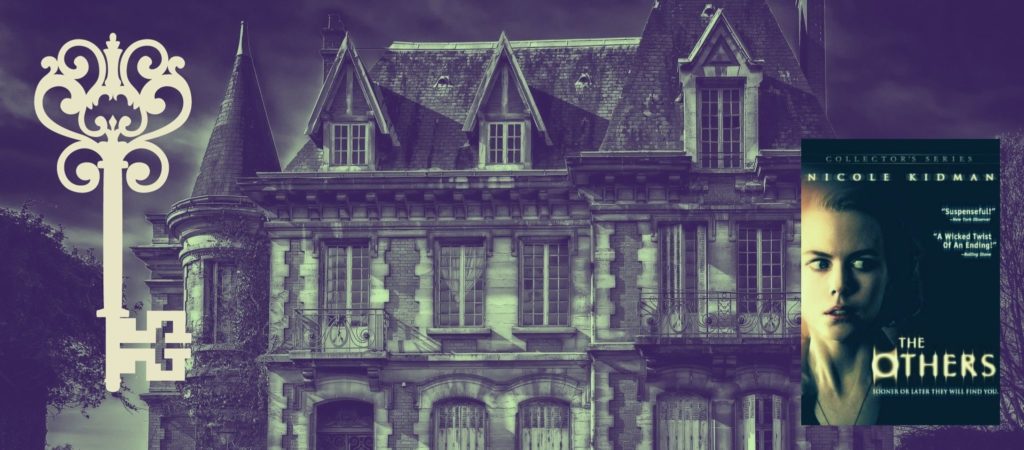 The Others is one of those haunting movies people either love or hate. I've never met anyone who expressed a lukewarm opinion. I'm firmly in the LOVE camp. It's one of my top 10 all-time favorite movies. I try to rewatch it every few years, usually around Halloween. So I was thrilled this title was included on my October required films list this semester. And I decided it was high time for my husband to finally experience the joy of watching this film for the first time.
Unfortunately, the hubs quickly joined Camp HATE. He could not even sit through the first hour. His objections to the movie echo what most of the other haters tell me. I'll talk more about that later.
I first watched this movie in a theater during its opening weekend in August 2001. If you've never viewed The Others in a darkened theater, you've never fully experienced it. What I remember is pure pleasure, from the opening sequence of old-timey "penny dreadful" illustrations to the gates closing in the final shot. The isolation and claustrophobia of the house permeated the darkness. And that humdinger of a twist quite literally took my breath away. Having watched the movie on the small screen at least five times since then, it never fails to amaze me that I didn't have some clue of the twist that was coming. Writer/Director Alejandro Amenábar plays fair, seeding the movie liberally with plenty of hints that are about as subtle as a sharp elbow in the ribs.
They're everywhere. They say this house is theirs. "
Just about every performance in this movie is pitch-perfect, from the threesome of subtly sinister servants to the two children forced to hide from daylight due to a rare photosensitivity disease so severe it could result in death. (xeroderma pigmentosum?) The only performance I didn't love was sad sack Charles shambling in from the front lines of WWII. I don't blame the actor (Christopher Eccleston). He probably played the role as directed. Charles is more of a prop in this movie than an actual character. His appearance is the one thing his wife has been hoping and longing and praying for. When the blessed event finally happens, their reunion is anti-climactic. One gets the feeling the mysterious fog threw him at Grace just to stop her from wandering too far afield. After a few excruciating scenes where he stares at nothing and one cathartic confrontation with Grace, he just wanders away again.
But I can ignore Charles because Grace is the heart and soul of this film.
This is Nicole Kidman's movie and she is dazzling. Which is not to say likable. It's a creepy tale of twisted psychological suspense wrapped up in a stylish package. Grace is high-strung, astringent, and takes her children's religious instruction to the point of mental abuse. The scene where she threatens her sickly son and daughter with eternal incarceration in Children's Limbo for lying is appalling … but also mesmerizing. Grace seems to be caught in a tug-of-war between love and hate for her own offspring. And her dogged determination to explain the strange occurrences in her house as tricks and lies becomes exhausting.
There are things your mother doesn't want to hear. She only believes in what she was taught. But don't worry. Sooner or later everything will be different. "
As Grace marched around with her keys, as she searched the house with a shotgun, and as she discovered the macabre "book of the dead" photo album, I felt the tension ratcheting up my spine. But all of my empathy was invested in the children (even when they were at their whining and bickering worst) and the servants (even though they had a secret agenda I didn't understand) until the point where Grace unloads her grief and feelings of abandonment on her absentee husband.
What were you trying to prove by going to war? Your place was here with your family. I loved you, but that wasn't enough, was it? You want to leave not because of the war, you want to leave me. "
That's the point when I finally get past Grace's icy defenses and feel her desolation. Left alone in a hulking old house on a remote island occupied by Nazis, she was facing another form of lifelong imprisonment caused by her children's rare genetic disorder. It's not like she can send them out to fend for themselves when they turn eighteen (or twenty-five, or forty-seven). And then she's told to give up all hope of her husband's return from war. Is it any wonder she's an overwrought bundle of nerves spewing stories of damnation?
Death of a loved one can lead people to do the strangest things. "
The way the director reveals the truth about the servants is masterful. The three of them marching relentlessly toward Grace's loaded shotgun makes me squirm every time I watch this movie.
Don't trouble yourself, ma'am. Tuberculosis finished us off, more than half a century ago. "
Immediately followed by the incredible seance confrontation, which I believe to be one of the best climax scenes in any ghost story ever filmed. Finally, Grace makes her tearful confession and all is revealed as the children huddle around her on the stairs.
The haters, including my husband, tell me they find the movie's quiet and brooding pace boring. Roger Ebert, who only gave the film 2-1/2 stars, sums up his objections with this excerpt from his 8/10/2001 review:
… in drawing out his effects, Amenabar is a little too confident that style can substitute for substance. As our suspense was supposed to be building, our impatience was outstripping it. "
I simply cannot imagine being bored while watching this movie. That said, no haunted house movie is going to please everyone. However, with an 83% fresh rating on Rotton Tomatoes and a tidy cache of international awards to its credit, it seems most critics have pitched their tents on the side of love for The Others.