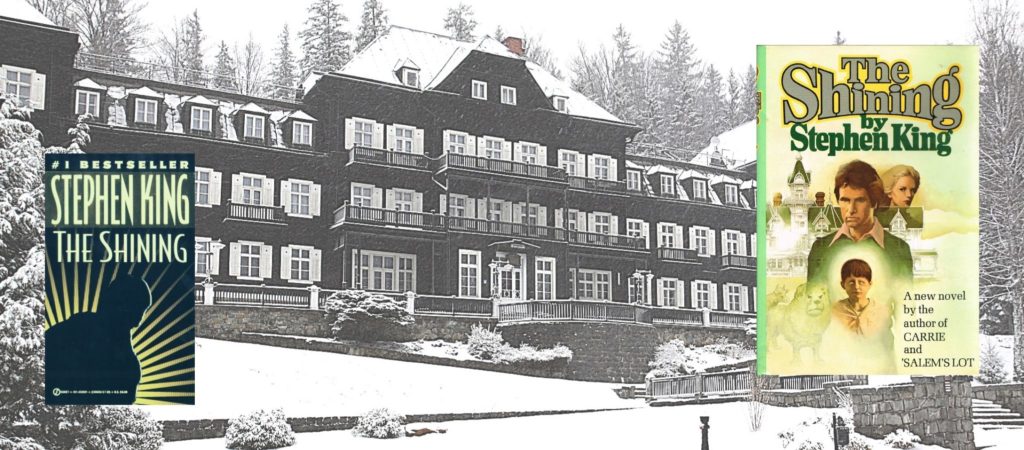 I wonder what it was like to read The Shining before Stanley Kubrick's movie came out. Back when Wendy was still a fresh, flaxen-haired beauty (not Olive Oyl from Popeye) and Jack Torrance could be anyone other than JACK.
King notoriously hates Kubrick's movie with vociferous spite that lives on even after the director's death. The thing is, filmmaking is a very different form of storytelling from writing novels. (I know. Thank you, Captain Obvious.) What I'm trying to say is I don't disagree with most of the directing decisions Kubrick made that differ from King's novel. Speaking from a purely cinematic perspective. Of course, you're going to use a hatchet instead of a roque mallet. Nobody knows what a roque mallet is here in the real world. Or course, you're going to use a creepy frozen hedge maze instead of a menagerie of murderous hedge animals. The special effects would have been hideously expensive and most likely would have looked as dated as King Kong within 5 years. Of course, you're going to bring in those creepy girl twins, put Danny on a Big Wheel tooling through long hallways, and have Jack freeze to death instead of bashing his own brains out.
Also, maybe King's still just a little too precious with this particular alcoholic male writer character out of his endless posse of alcoholic male writer characters.
That said, I don't like the movie either. There, I said it. And I'm not a big fan of novels about abusive, alcoholic male protagonists. So I expected to hate the novel.
Wow, was I wrong! I loved this novel with a side of haunted happiness sauce.
Let me rephrase that. Actually, I fell in love with it after trudging through the first 82 pages, also known as Part One – Prefactory Matters. In the beginning, all I could see was Jack Nicholson's smug face. All I could hear was Jack Nicholson's snarky voice. All I could SMELL was Jack Nicholson. (No, I've never met the man himself but you can see how he smells in most of his early movies. Am I right?)
Who thought it was a good idea to cast that guy from One Flew Over the Cuckoo's Nest for this role? And who took one look at Shelley Duvall and thought, she'll make a great Wendy?
However, once the family arrives for Closing Day at the Outlook Hotel, I was mesmerized. Show me any big old luxury hotel in a remote location with a suitably glamourous and notorious past, and I'm in. I don't even care if there are ghosts. But there are ghosts, and you know they're on their way. Yes, I would say this is one of those rare cases where the haunted setting is actually a character with a voice and a hornet's nest packed with secret motivations.
And then we meet Dick Hallorann. OMG, Hallorann! Where has this character been all my life? This is one of the best characters I've ever met in a Steven King novel, or any work of fiction for that matter. I read in one review that Hallorann is nothing more than a deus ex machina in this novel. Nooooo. Zip it! He's the mirror opposite of Jack Torrence. He's the Yin to Jack's Yang. While Jack is unable to put his son's safety above his own pride, Hallorann risks his life to save a weird little white boy against all odds and in direct opposition to his own best interests. The evil lurking within the Outlook Hotel calls forth all of Jack Torrance's demons, and it activates all of Hallorann's higher angels.
Danny is five years old. He needed help. His mother is trapped in the same dysfunctional family mess. So he told the right adult he needed help in the only way possible he could sound the alarm.
Back to idiot casting decisions … I love me some Scatman Crothers, but he's no Hallorann. They couldn't get Richard Roundtree to answer their calls?
    Side Note: The world needs a new haunted mystery/horror series about Hallorann. If Nurse Ratched gets her own Netflix series, Hallorann is perfect for a title role in a series where he travels from kitchen to kitchen across the U.S. meeting new people with a touch of Shine and uncovering evil supernatural doings with his Shining skills. Come on! Who wants to sign my petition to Mr. King? Sorry, but Doctor Sleep with Danny as yet another (wait for it) alcoholic male character could not depress me more. No interest in reading that. However, I would pay to subscribe to a streaming service just to see HALLORANN starring Delroy Lindo or Michael Clarke Duncan.
Now, back to Jack. Once I chased Jack Nicholson out of my head, I discovered quite a bit of empathy for Jack Torrance. That was a shock to my system. Because I knew all along how this story was going to end. But we've all done things we regret and felt trapped and suffocated under the weight of other people's expectations and judgments. Also, like Jack Torrance, I was thoroughly enthralled by the history of the Overlook. I felt his deep frustration as Wendy kept asking him to leave the job at the Overlook when they had no funds, no other employment options, and no other place to live. I mean, are you going to support the family, Wendy? What's your plan? When the snow started falling and "the decision was taken out of their hands" I felt profound relief. Which is kind of crazy since (in case I haven't mentioned it) I KNOW how this all ends. And then there's the snowmobile scene. This has to be one of the best internal struggle scenes ever written since Hamlet's To Be or Not To Be soliloquy.
Seriously, this paragraph:
If we go, how long will it be before you find the local hole in Sidewinder? a voice inside him asked. The dark place with the lousy color TV that unshaven and unemployed men spend the day watching game shows on? Where the piss in the men's room smells two thousand years old and there's always a sodden Camel butt unraveling in the toilet bowl? Where the beer is thirty cents a glass and you cut it with salt and the jukebox is loaded with with seventy country oldies? "
WOWZA! I imagine Steven King ran outside and turned cartwheels after he wrote that. Or maybe he cracked open his own beer and kept typing. Either way, it's pure magic.
One last unexpected and beguiling element in the novel is the white, leatherbound scrapbook Jack discovers in the basement. There are plenty of readers and critics who hate those sort of epistolary touches. I loved every minute of reading the articles. Even though I can see how they could be cut out without seriously hurting the story arc, exploring those articles with Jack was pure delight for me. And I think the novel would lose a compelling dimension without them.